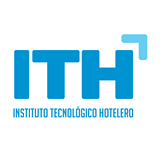 Ikusi announces new partnership with Instituto Técnico Hotelero
Ikusi Multimedia, a company which specialises in advanced television network solutions specifically designed for the hospitality sector is now in partnership with the ITH, Instituto Tecnológico Hotelero (the Technical Institute of Hoteliers of Spain). Ikusi Multimedia can offer the hospitality sector technological solutions, which aim to enhance the experience of the client, enabling access to Premium content, which they already enjoy in their own home.
Ikusi Multimedia believes that the quality of television network services defines the category of hotel. The guest, when travelling, wishes for the same service as at home, or even better. They want to watch their favourite channel, enjoy internet services, find the latest film releases or follow the biggest sporting events. The hotel, also, can benefit from this experience, communicating with the guest through their own channel, offering them advice and new experiences and services to reinforce its brand. 
Ikusi Multimedia has developed solutions to fulfil these objectives, which will not require the replacement of the existing hotel televisions or costly and complex tuning operations. This will allow hotel management to satisfy the needs of guests, who have come to expect the latest and most advanced services.