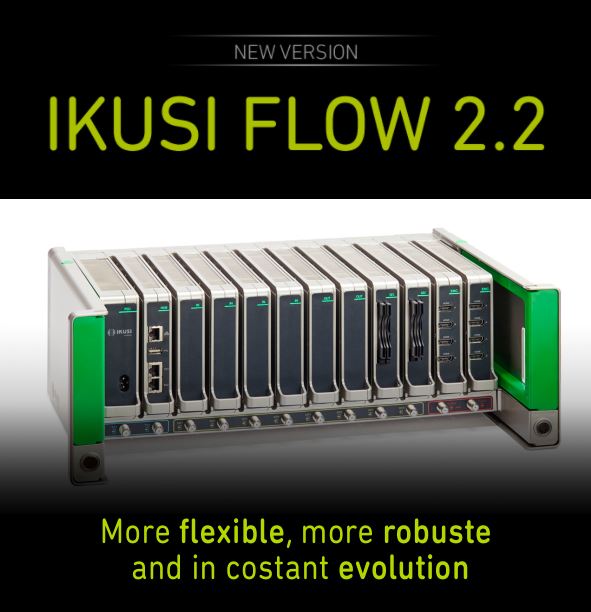 Ikusi presents the New Ikusi Flow Firmware Version
Ikusi Flow 2.2: this is how the new firmware version of the Ikusi smart TV headend is called. A proposal that stands out in terms of greater flexibility and reliability, confirming Ikusi Flow as the most complete solution for professional environments.
The advanced version of Ikusi Flow has improved density, thanks to the inclusion of the INx4 module, which incorporates 4 universal tuners per entry module, and to the OUTx6 module, presented with 6 DVB-C/T/J83/AnnexB modulators for every output module.
Another parameter that has improved in features is security. Ikusi Flow 2.2 provides extra protection for content transcription thanks to DRM V-SECURE and CAS SIMULCRYPT.
The new Ikusi Flow version has also grown in reliability. It has become more robust, offering uninterrupted service backed by its new redundant UPS, which takes control in case of breakdowns, preventing service gaps.
Ikusi Flow 2.2 provides better control of the headend by sending e-mails that make it possible to manage headend incidents in real time, not just remotely but also instantaneously.
Ikusi Flow 2.2 also offers improved service thanks to advanced parameter access that provides greater installation customizing (e.g., for license management).
Density, improved control and service, extra protection and greater solidity are the features that have been added to the Ikusi Flow headend value proposal – a platform distinguished by easy physical installation, intuitive configuration, centralized content management and viewing device administration… as well as by its permanent commitment to continue evolving into the most complete solution for professional environments.